Wc3 Styler - Warcraft 3 Styler
This program is intended to customize the game appearence with some very known feature like changing the MainMenu background with those from the campaigns and other very cool options to change and get a new look.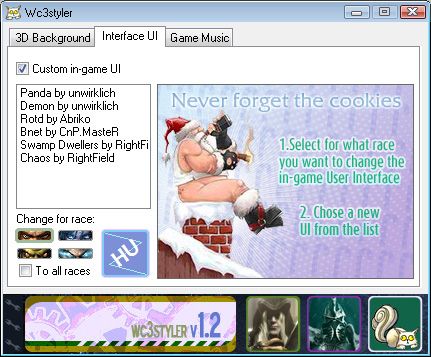 What can I do with this:
- Replace the MainMenu background with those from the campaigns or a custom image
- Change the UI interface (the visual showed in the middle of a game; menus, inventory, portrait, minimap)
- Change the in-game music (option to select mp3 musics to play as the background sound of a match).
Code:
Requirements:
¯¯¯¯¯¯¯¯¯¯¯¯¯
- PC
- Windows XP or Vista
- Warcraft ROC and TFT installed with the most recent patch (1.23)
How to use:
¯¯¯¯¯¯¯¯¯¯¯
- Just open the executable and select one of the tabs in the top.
- Each tab have instructions how to use it, overall its obvious the usage.
- While changing the MainMenu screen and the User Interface, you will get a preview how it will look.
- The changes in the game are immediate. Just select an item in the lists, or chose any option, and start the game using the buttons in the bottom to verify the changes.
Notes:
¯¯¯¯¯¯
- Changes are permament, you can close this program and they will still be in effect.
- You can easily restore to the defaults setting used by the game using the check box in the top of each tab.
- The program tries only to use local files (not changing the mpq) and so being safe to play on bnet ladder.
- Options that modifies the game MPQ have an icon warning the risk of any issue, and even modifying, I tested and it's still safe to play on ladder.
- Make sure World Editor or any other program that mess the game mpq are closed before using it.
Download Warcraft 3 Styler: (Post something to see the link)